Casey picking up a fresh grind at Ultratune
Join Olympic hopeful biathletes Casey Smith and Raleigh Goessling for a 3 day biathlon training camp in Washington State's Methow Valley.
Date: October 25-27, 2013
Location: Methow Valley Biathlon Range, Mazama, Washington
Cost: $215
Ages: 20+
Equipment Needs: Biathlon rifle, 750 rounds of ammunition, ski walking poles (i.e. downhill length ski poles), athletic footwear.
The purpose of this autumn dry-land biathlon training camp is to improve your biathlon skills while supporting biathletes Casey Smith and Raleigh Goessling. Training sessions will focus on dry firing, live fire, training plans, visualization, dry land training and the individualized needs of masters biathletes. Previous biathlon experience is required.
Space is limited so register early!
.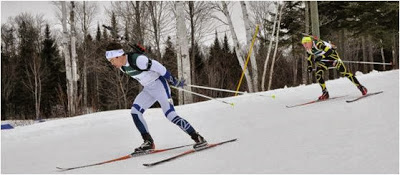 Raleigh Goessling leads Casey Smith while sprinting for the title at Nationals.